Another joint public sealed bidding for Prime Properties of the Philippine National Bank (PNB) and Allied Banking Corporation will be held this coming October 15, 2010. Venue will be the at the PNB Special Assets Management Sector (PNB-SAMS) office, 9th floor, PNB Financial Center, President Diosdado Macapagal Blvd., Pasay City, Philippines.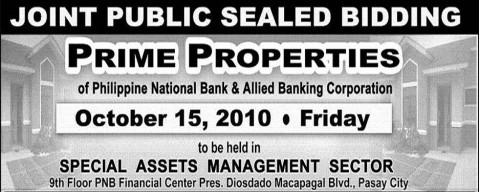 Interested bidders are invited to attend thier Pre-Bidding Conference on October 12, 2010, Tuesday, 2:00pm, at the PNB-SAMS Head office.
The properties included in this listing are considered to be prime properties as majority are priced above Php5 Million, although they also included properties that were priced below Php1 Million pesos like a 127sqm residential lot in Brgy. Zapote, Las Pinas City, that has a minimum bid price of Php711,200. The most expensive property on the list is a mansion located at Forbes Park, Makati City that has a minimum bid price of Php220 Million (refer to item 3 below). Now that's prime!
Anyway, a preview of some of the properties for sale can be seen below. Click to enlarge.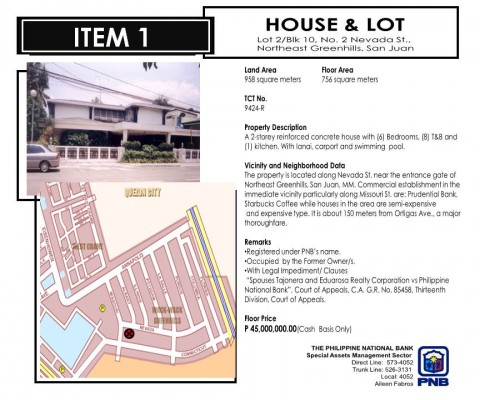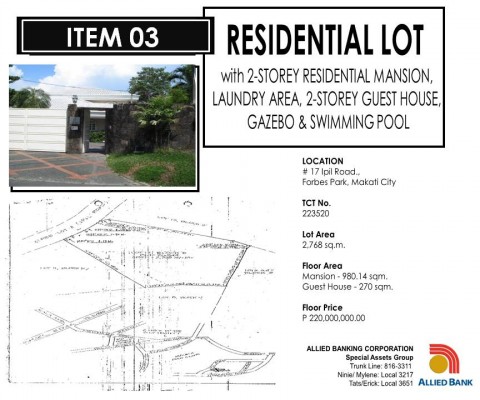 >>>Click here to download the complete listing for the joint public sealed bidding of PNB and Allied Bank Prime Properties
Sealed bidding terms of reference, and PNB-SAMS contact info can be found on the complete listing above. Don't forget to call PNB-SAMS directly if you have any inquiries.
Happy hunting!
To our success and financial freedom!
Jay Castillo
Real Estate Investor
Real Estate Broker License #: 20056
Blog: https://www.foreclosurephilippines.com
Follow me in Twitter:http://twitter.com/jay_castillo
Find us in Facebook:Foreclosure Philippines facebook page
Text by Jay Castillo and Cherry Castillo. Copyright © 2010 All rights reserved.
PS. Don't be the last to know, subscribe to e-mail alerts and get notified of new listings of bank foreclosed properties, public auction schedules, and real estate investing tips. Inbox getting full? Subscribe through my RSS Feed instead!