The Philippine National Bank Special Assets Management Group (PNB-SAMG) shall be having a public auction of PNB foreclosed properties on February 7, 2013, 2:00pm, at The Avenue Plaza Hotel, Magsaysay Avenue, Naga City.
*If you are looking for PNB foreclosed properties in Metro Manila, check out their Prime Properties auction on January 25, 2013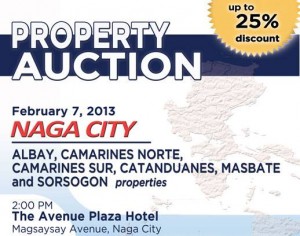 This auction in Naga City will include properties located at Albay, Camarines Norte, Camarines Sur, Catanduanes, Masbate, and Sorsogon. Please see details below.
Property Auction Details
UP TO 25% DISCOUNT

AS LOW AS 8% INTEREST RATE*

PAYMENT TERMS UP TO 10 YEARS

For installment Buyers

PLS.BRING PROOF OF INCOME ITR, Cert. of Employment, Bank statement etc)

DEPOSIT : PhP 25,000.00 CASH OR MANAGERS CHECK ONLY

NO DEPOSIT , NO PARTICIPATION

*Rates may vary according to market value of property (see below)

Items with a selling price above Php 1 Million

1-5 years > 10%
6-10 years > 12%

Pabahay Bonanza (below Php 1 Million)


8% fixed interest rate for installment terms
*For more details, please contact PNB-SAMG directly.
Download the complete list of foreclosed properties
The complete list of foreclose properties can be found inside the auction flyer below. Just click to download.
Or just click on the following link: PNB foreclosed properties auction Naga City Flyer February 7, 2013 (PDF)
Important reminders – please read!
Auctioneer reserves the right at any time to pull out or update status of the properties in the event discrepancies are found.

PROPERTIES FOR SALE ARE ON AN "AS IS WHERE IS BASIS"

Inadvertent misprints shall not alter the property's factual condition or shall they be deemed as a misrepresentation of the property.
For more details, please contact PNB SAMG directly through the contact numbers on the auction flyer.
Happy hunting!
~~~
Text by Jay Castillo and Cherry Castillo. Copyright © 2008 – 2013 All rights reserved.
Full disclosure: My wife and I are accredited real estate brokers of PNB but the properties on this listing are outside of our coverage so interested buyers are advised to contact PNB-SAMG directly. Thank you for understanding.