If you are looking for foreclosed vacation properties as investments, this just might be what you have been looking for. The following are foreclosed vacation properties for sale and are actually included in the upcoming 164th Special public auction of UnionBank foreclosed properties.
Please refer to the pictures and property details below.
Caylabne Bay Resort condo for sale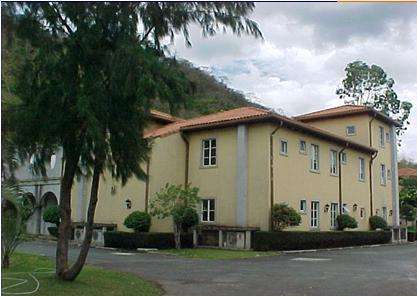 Property details: RESIDENTIAL CONDO / Unit 6103 Building 61, Las Casas De Cala Buena, Caylabne Bay Resort, Sampang, Ternate, Cavite
Min Bid: Php3,450,000.00
The property is approximately 1.5 km N from the front office of Caylabne Bay Resort, some 2.5 km SE from the main gate, about 4.5 km NE from the Marine Base Ternate, approximately 7 km NE from Lazo Detachment, about 13.5 km NW from the main entrance of Puerto Azul which is fronting Governors Drive and approximately 20 km NW from the town proper of Ternate
The condominium unit has a floor area of 67 square meters partitioned with kitchen, living and dining areas at the ground floor, while the second floor has, bedroom, toilet and bath. It also has common area and appurtenant parking slot.
Canyon Woods Philippines house for sale
Property details: TOWNHOUSE UNIT / Lot 24 Blk 22 Bristle Cone Street, Canyon Woods, Phase I, San Gregorio, Laurel, Batangas
Min Bid: Php5,100,000.00
The property is located on the NW side of Bristle Cone St., approximately 300 m SE from the clubhouse, some 450 m SE from Canyon Woods main gate and view deck along Diokno Highway, about 3 km NE from SMC Training Center and approximately 18 km SW from Tagaytay City.
The townhouse unit is an Oakridge Model, has a LOT AREA of 200 squarE meters and a FLOOR AREA of 127 square meters, two storey with basement, with two (2) bedrooms, three (3) toilet and bath.
Mountain Ridge Resort Tagaytay condo for sale
Property details: RESIDENTIAL CONDO UNIT / Unit B-1 & Unit B-2 Mountain Ridge Resort, Bayuyungan, Laurel, Batangas
Min Bid: Php5,800,000.00 / Min Bid: Php6,800,000.00
The properties, are about 1.5 km S from the village's main gate located along the village main road fronting Tagaytay-Nasugbu Road, about 1.7 km SW from the junction going to Alfonso proper, about 4 km SW from Mendez Crossing, about 6 km SW from Tagaytay City Hall
The condo units, are both three-stories with attic. Unit B-1 and Unit B-2 have FLOOR AREA's of 186 square meters and 219 square meters, respectively. Both have receiving areas, kitchen, bathrooms and car ports.
Tagaytay Highlands condo for sale
Property details: RESIDENTIAL CONDO UNIT WITH PARKING / Unit 2309 Pine Crest Condo, Tagaytay Highlands, Calabuso, Tagaytay City
Min Bid: Php7,000.000.00
The property is approximately 1.5 km from the main entrance gate, some 3.5 km from the National Road in the vicinity of Palace in the Sky / People's Park and about 7.5 km from Tagaytay Rotonda.
The condo unit (without shares) has a FLOOR AREA of 97 square meters, with an exclusive right to use one (1) parking space at the basement level. It also has a kitchen, living room, bedroom, toilet and bath, and a terrace.
For more details
For more details, please call Unionbank's Asset Recovery Group directly through the following:
(02) 637-1445
(02) 638-0125
Please do keep in mind that the properties above are included in the foreclosed properties for sale in the 164th Special Public auction of UnionBank foreclosed properties that happens on January 22, 2011. Checkout this post for more details.
Thank you again to Mr. Lance Yadao of UnionBank for sending us a copy of the details for the above properties. You may also download a copy of the flyer below.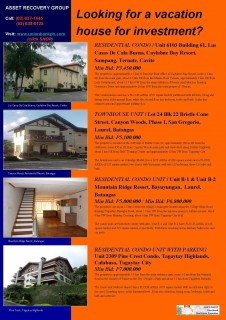 Happy investing!
To our success and financial freedom!
Jay Castillo
Real Estate Investor
Real Estate Broker License #: 20056
Blog: https://www.foreclosurephilippines.com
Follow me in Twitter: http://twitter.com/jay_castillo
Find us in Facebook: Foreclosure Investing Philippines facebook page
Text by Jay Castillo and Cherry Castillo. Copyright © 2011 All rights reserved.
PS. Don't be the last to know, subscribe to e-mail alerts and get notified of new listings of bank foreclosed properties, public auction schedules, and real estate investing tips. Mailbox getting full? Subscribe through my RSS Feed instead!