This is the last installment for Buena Mano's Q3-2010 catalogues and this contains Luzon acquired assets for sale. Don't forget, Buena Mano catalogues are published quarterly and are absolutely free.
The Q3-2010 issue for Luzon acquired assets for sale combines all property types in one listing and are color coded according to property classifications which can be seen below.


From what areas are the acquired assets on this list?
The Luzon  Q3-2010 catalogue contains listings of properties from the following areas

Albay
Bataan
Batangas
Benguet
Bulacan
Cagayan
Camarines Norte
Camarines Sur
Ilocos Norte
Isabela
La Union
Laguna
Nueva Ecija
Palawan
Pampanga
Pangasinan
Quezon
Tarlac
Zambales
Click here to download the Buena Mano Luzon Q3-2010 acquired assets (Note: If your browser does not open the PDF file in a new window, just right-click the link above then click "Save as…" to download this 2.88MB PDF file. Downloading may take time to complete, depending on your internet connection speed). To open PDF files, you need to have a free PDF reader like Foxit PDF Reader, or Adobe Reader version 6.0 or higher installed on your computer.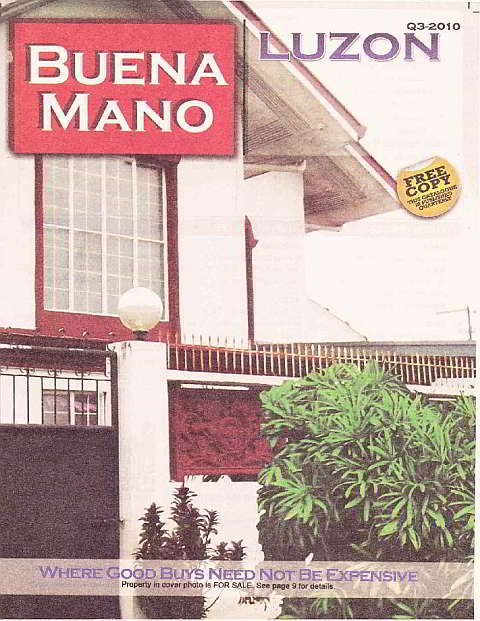 Having problems downloading/opening the PDF file above? Do let me know by leaving a comment below so I can upload a JPG version if needed. This is almost double the size and unsearchable.
*For those having problems opening PDF files, here is the JPG version which I have split into 4 parts below.
Got questions?
If you have questions, Please see the guidelines below which is from page-39 of the catalogue. Most of the answers to frequently asked questions can be found on this page. (Click to enlarge – opens in a new window)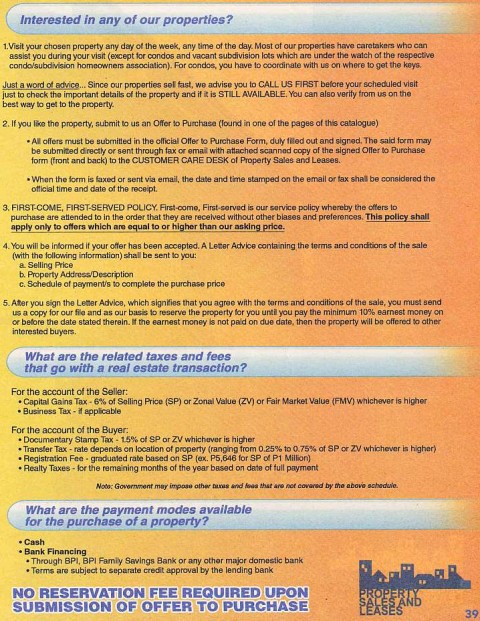 Do keep in mind that I am a duly accredited broker for Buena Mano Property Sales and Leases so If you are seriously interested in any of the properties on the list, just let me know through the comments section below so I can have one of my agents assist you. If you have any questions that were not answered by the guide above, please leave a comment below so that other people with the same question will also benefit when I answer it. Thanks!
Sorry for the delay…
I apologize for the delay in posting this, I had an episode of vertigo last week a little after I posted the list of AMA bank repossessed cars, I'm glad I feel a lot better now!
I would also like to apologize to those who have inquiries about the Buena Mano Metro Manila Q3-2010 listing. I have yet to finish compiling all of the details that you asked for, rest assured I shall proceed and continue with gathering the information you need.
Happy hunting!
To our success and financial freedom!
Jay Castillo
Real Estate Investor
Real Estate Broker License #: 3194
Blog: https://www.foreclosurephilippines.com
Follow me in Twitter:http://twitter.com/jay_castillo
Find us in Facebook:Foreclosure Philippines facebook page
Text by Jay Castillo and Cherry Castillo. Copyright © 2010 All rights reserved.
PPS. Don't be the last to know, subscribe to e-mail alerts and get notified of new listings of bank foreclosed properties, public auction schedules, and real estate investing tips. Inbox getting full? Subscribe through my RSS Feed instead!