Buena Mano has just released their latest catalog of real estate property listings tagged as their "Amethyst Issue", which includes properties from the Luzon, Visayas, and Mindanao. This is the February 2015 issue. You may download a soft-copy below.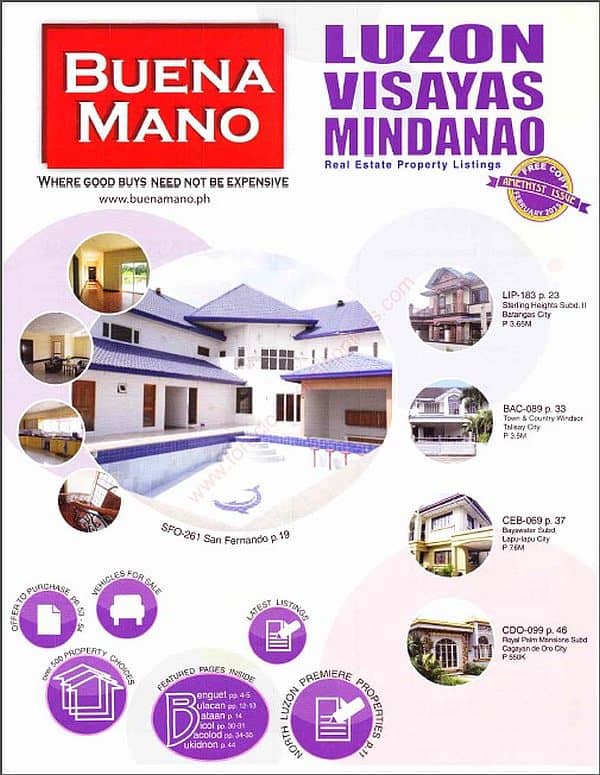 Why did they call this the "Amethyst Issue"?
Here's a short backgrounder on why this is called the "Amethyst Issue"
On the fourth edition of our gemstone series, the Amethyst lssue, we pay tribute to Buena Mano's dedication to protect the buyer through transparency in our properties being sold. lt has been our practice for how many years to be truthful as much as possible to our clients from negotiation to closing of the sales. Our basic and unique strategy is property tagging which we use to easily identify those properties with intricacies. Whether it's Green Tag, Yellow Tag or Red Tag, there's nothing to worry because our sales advisors are ready to disclose everything to the best of our knowledge. Through straightforward presentation of property details, the client is protected from any shock in the future.

Asking about the connection between 'Amethyst" and "protection"? The said violet variety of quartz got its ancient reputation of purity from the Greeks who called that precious stone as "a-"(not) and "-methustos" (intoxicated). Thus, this was widely used as a charm to prevent intoxication while medieval soldiers brought some slice of it as protection in the battle. Different cultures have considered amethyst as a miraculous stone that can protect crops against tempests and locusts, give the best catch in the hunt, provide resistance against snakebites, expel evil spirits and further inspire the intellect.
In other words, we can all rest assured that they strictly follow a full disclosure policy.
Download the February 2015 Buena Mano catalog for Luzon, Visayas, and Mindanao
You may download a soft-copy of the catalog below.
Warning – The catalog is almost 10Mb in size. Please ensure you have a good internet connection when downloading.
Click to download – February 2015 issue of the Buena Mano Catalog for Luzon, Visayas, and Mindanao
Full disclosure: I am an accredited real estate broker of Buena Mano Property Sales and Leases. Through this blogpost, and the digitized copy of the catalog published on this site (ForeclosurePhilippines.com), I, Jose Dionisio "Jay" R. Castillo, am acting as your official referror and accredited real estate broker, which you agree to acknowledge in the Offer To Purchase form within the catalog.
Looking for the Metro Manila Catalog?
If you are looking for the Buena Mano Metro Manila catalog, it will be next (I just need to digitize it). Don't forget to subscribe to e-mail alerts to get notified once I publish it.
Happy hunting!
~~~
To our success and financial freedom!
Jay Castillo
Real Estate Investor
PRC Real Estate Broker License No. 3194 
Blog: https://www.foreclosurephilippines.com
Connect with us – Facebook | Twitter | Blog RSS | Google +
Text by Jay Castillo and Cherry Castillo. Copyright © 2008 – 2015 All rights reserved.
Disclaimer: The properties on the catalog above are for sale on an "as is where is basis". All are advised to do the necessary due diligence before entering into a binding commitment financially or otherwise in relation to any of the listings of foreclosed properties published in ForeclosurePhilippines.com. Inadvertent misprints shall not alter the factual condition of any property published in ForeclosurePhilippines.com, nor shall they be deemed as misrepresentation.