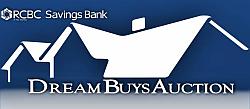 RCBC Savings Bank will be having another Dream Buys Auction of foreclosed properties this coming August 25, 2012, Saturday, 9:00am, at Max's Restaurant, #312 Liberty Center, Brgy. Pleasanthill, Shaw Boulevard, Mandaluyong City, Philippines.
This Dream Buys Auction will include foreclosed properties from the Luzon and Metro Manila areas.
Notice: Due to time constraints, I wasn't be able to post this sooner. My wife and I are still in catch-up mode after all that has happened. However, I am still posting this for everyone's reference, including myself. I might publish a post-auction listing if we are able to attend the auction on August 25. In the meantime, please inquire directly with RCBC Savings Bank through the contact details on the list. I would appreciate it if you will let them know that you learned about this listing through Jay Castillo of ForeclosurePhilippines.com. Thank you! 
Payment terms
The payment terms should still be the same as that of previous auctions (Minimum Downpayment is 10% for vacant lots, 20% for properties with improvements, 25% downpayment is required to occupy a property, with the balance payable up to 10 years at 12% fixed annual interest rate), but you will have to confirm this yourself as this was not mentioned in the auction announcement I received.
RCBC Savings Bank foreclosed properties listing (August 25, 2012 auction)
Other forms for buyers:
How to inquire and get more details
To get more details about the auction and included foreclosed properties, please call RCBC Savings Bank directly through the following:
Telephone:
687-0839
555-8700 loc 4449
RED – 0908-8854803
ALEX – 0918-9511811
JOSEPH – 0918-9903744
Other Properties: VIC ORENSE – 470-9432/0908-9182781
Email:
rsbproperties@rcbcsavings.com
Disclosure and disclaimer
All properties are sold on AS-IS-WHERE-IS basis. Properties and prices are subject to change without prior notice. The Bank reserves the right to withdraw any property before auction. Inadvertent misprints shall not alter the property's factual condition nor shall they be deemed as misrepresentation of the property.
Happy hunting!
~~~
To our success and financial freedom!
Jay Castillo
Real Estate Investor
PRC Real Estate Broker License No. 3194 
Connect with us – Facebook | Twitter | Blog RSS | Google +
Text by Jay Castillo and Cherry Castillo. Copyright © 2008 – 2012 All rights reserved.
Full disclosure: Nothing to disclose. Although I am an accredited real estate broker of RCBC Savings Bank, you may contact them directly for this particular listing. Just think of this as a form of public service. Thank you for understanding.