I have stumbled upon a new listing of repossessed cars for sale from UnionBank of the Philippines. Unlike my previous post, I am glad to be able to post the list of repossessed cars earlier this time around to give interested buyers enough time to inspect the cars and do their due diligence. The deadline for submission of bids is on Tuesday, September 22, 2009. Actually, the bidding period for these Union bank repossessed cars for sale is from September 14-22, 2009.
Bid forms are available at Unionbank ARG, 20th floor, Unionbank Plaza, Meralco Avenue corner Onyx Street, Ortigas Center, Pasig City. These second hand foreclosed cars are available for inspection at the Unionbank Warehouse located at 185 Roosevelt Avenue, San Francisco Del Monte, Quezon City (in front of Watch Tower).   For more details, you may call Babes through Tel# 638-0113 or 667-6388 loc. 8370.
Please refer to the invitation to bid below for UnionBank's repossessed vehicles.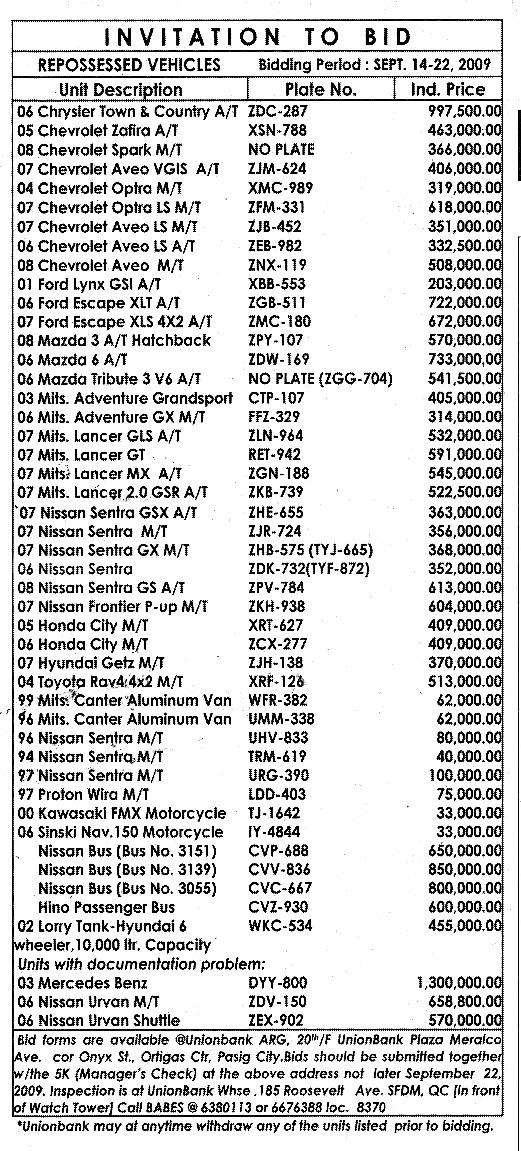 (Source: Manila Bulletin Classified ads, September 13,2009 issue)
You may also check Unionbank's website for updates through the following link : https://www.unionbankph.com/index.php?option=com_content&view=article&id=1039&Itemid=248 (Just click on the link for second hand vehicles) I have just checked and it still contains an outdated listing of repossessed cars for bidding last July 2009.
Good luck and happy hunting!
—
To our financial freedom!
Jay Castillo
Real Estate Investor
Real Estate Broker License #: 20056
Blog: https://www.foreclosurephilippines.com
Social Network: http://foreclosurephilippines.ning.com
Mobile: +639178843882
E-mail: ph.investor@gmail.com
Text by Jay Castillo. Copyright © 2009 All rights reserved.
P.S. – If you are a new visitor, please start here to learn more about foreclosure investing in the Philippines.
P.P.S – If you liked this post, don't forget to subscribe to e-mail alerts and get notified of new listings of bank foreclosed properties, public auction schedules, and real estate investing tips. If your inbox is getting full, you may subscribe instead to my RSS Feed.