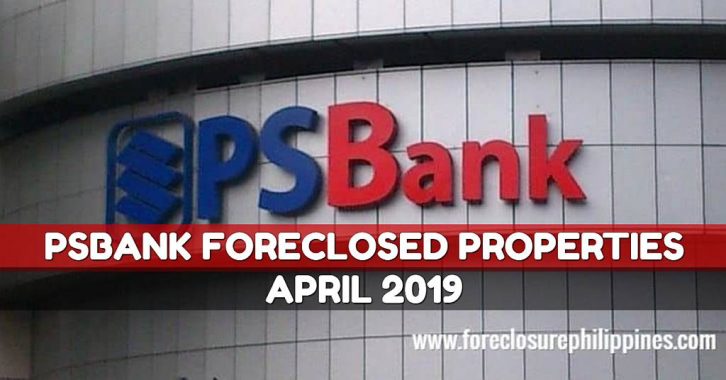 Here's an updated list of PSBank foreclosed properties for sale, as of April 4, 2019, plus a list of properties with special prices (due to legal concerns) last updated on March 20, 2019. In total, there are 472 foreclosed properties from PSBank. Details below.
Reminders (Please read!)
I still get emails from subscribers asking for property details, so I would like to remind everyone that we have stopped brokering foreclosed properties,  so please contact PSBank directly to inquire.
Anyway, directly inquiring to PSBank is the fastest way to get property details.
You can find PSBank's contact numbers with each property in our database, and it's also right below the downloadable list of properties.
We will not reply to emails directed to us that are asking for property details. Please be guided accordingly. Thank you for understanding.
View the list of PSBank foreclosed properties
For easy searching and filtering, you may view the entire list in our "Classifieds Database" below:
Click here to view searchable list of PSBank Foreclosed Properties (Database)
Download the list in PDF format
If you prefer the "old school" way of downloading listings, then you can do so below:
~
~
Note: You will need Adobe Acrobat Reader to view PDF files, which is free to download at Adobe.com
What do the colors mean in the PDF listing?
Properties highlighted in yellow are newly added properties
Properties highlighted in orange-brown are properties with reduced prices
How to inquire
For Inquiries, Please contact PSBANK Asset Sales Department:
| | | |
| --- | --- | --- |
| North Luzon Area | 885-8335 | GACarodan@psbank.com.ph |
| Metro Manila and Visayas / Mindanao Area | 885-8208 loc. 8990 | CBZapata@psbank.com.ph |
| South Luzon Area | 885-8208 loc. 8016 | RCRodriguez@psbank.com.ph |
~
CALL or TEXT 0947-994-3644

Fax Number(s): 885-8368 (Alert to ASSET-SALES Dept.)

Group Email: assetsales@psbank.com.ph

Website: www.psbank.com.ph
For properties with special prices (due to legal concerns)
Contact details
| | | |
| --- | --- | --- |
| CONTACT PERSON | CONTACT NUMBER | E-MAIL ADDRESS |
| Susan Castellon-Balawitan | 885-8208 loc. 8475 | SDCastellon@psbank.com.ph |
| Joanna Marie A. Soral | 885-8208 loc. 8930 | JASoral@psbank.com.ph |
PSBank official website
Disclaimer/disclosure
These foreclosed properties from PSBank are for negotiated sale. In other words, if you want to buy one of their properties, you just need to submit an offer, no need to go through a public auction (For more details, please contact PSBank directly).
Availability of the foreclosed properties on the lists above are subject to change without prior notice since these are disseminated through various channels and offers may come in at any time. All offers received by the bank are subject to approval by the bank's committee.
1 All sales on "AS-IS, WHERE-IS and "NO RECOURSE" basis . No warranties
2 Prices NOT applicable to buybacks by former owners.
3 Properties and prices subject to change anytime and may be removed from the list for any reason Management deems appropriate.
4 The list may reflect properties sold without the knowledge of Asset Sales Division.
5 If multiple offers are received for the same property, a bidding shall be conducted the property shall be awarded to the highest bidder.
6 Mere submission of an Offer to Buy does not confer "first option" or" first right" to the offerer.
7 The deficiencies stated herein are not meant to be exhaustive, comprehensive or complete. Buyers are advised to conduct their own due diligence prior to making an offer
8 The Bank only shoulders Creditable Withholding Tax up to purchase price. Excess CWT and all other friction costs are for buyer's account.
9 The list is an intellectual property of PSBank. However, the Bank is not in any way liable if this shall be copied, reproduced, altered or tampered for any activities other than the purpose of marketing properties contained in it.
As usual, all foreclosed properties on the listings above are for sale on an as-is, where-is basis.
Happy hunting!
~~~
Don't forget to subscribe to e-mail alerts to get notified when the next updated listings of foreclosed properties are published.
Happy hunting!
P.S. – As mentioned above, please contact PSBank directly if you have any inquiries. Their contact details are inside the list that you can download above. Thank you for understanding.
Do you want more content like this? Tell us so we can publish more, just leave a comment or like/share. Thanks!