I visited the Registry of Deeds in Binangonan a couple of weeks ago and on my way there, I noticed something that every real estate investor or anyone buying a property should watch out for as part of due diligence, BEFORE buying a property in any area – floodlines!
Floodlines are the stains that remain on the walls, fences, gates, etc., after an area gets flooded. It can mean an area is flood-prone and can be a sign of things to come, unless something concrete was done to prevent future flooding.
I'll let the pictures do the talking
These may look like ordinary pictures of floodlines. However, these were the same floodlines I saw in the same area in Pasig just after Ondoy. Yes, the floodlines caused by Ondoy exactly 2 years ago as pictured above are still very visible.
Where do you look for floodlines?
Obviously, you won't see any floodlines if a property's walls, fences, gates, etc. got repainted or cleaned up already. So you should look for them at the following:
Concrete walls, fences,  of VACANT LOTS. Those that have rough surfaces that would retain the dirt and mud after a flood has receded would be a good place to start.
Unoccupied  properties. Since these are unoccupied, it is less likely that they are maintained, hence you will see the floodlines, even after several years have passed.
Public or private properties that are not well maintained. Just look at the pictures above!
What if you don't see any floodlines?
If you don't see any floodlines, you should still ask around the area. For sure you will find people who are more than willing to share their flood-related stories. Check out sari-sari stores, barangay halls, or even the property owners in the same street or area.
While banks will disclose any info they have with regard to flooding, don't rely solely on them or their caretaker who lives in the foreclosed property as they might not know exactly how high the flood was, if any, or they may simply not know if it was indeed flooded.
For FSBO (for sale by owner) properties, the seller might be hesitant to disclose any information with regard to flooding, as it might make you lose interest on their property. Just ask anyway and confirm by asking others who live in the same area, as mentioned above.
Online resources for flooding in the Philippines
You can also check out the following online resources  with regard to flooding in the Philippines.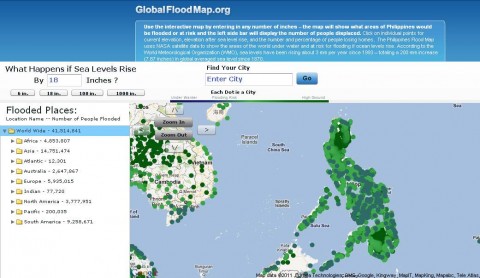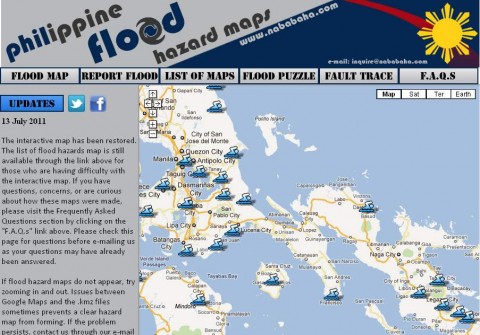 A solution to flooding in Metro Manila?
Has the MMDA found the ultimate solution to the flooding problem in Metro Manila? Check out the picture below and tell me what you think!

It seems they have given up and their only solution at the moment is to ask people to avoid those flood-prone areas when it rains.
Anyway, if you know other resources that can help determine if an area is flood-prone, or if you have more pictures of floodlines here in the Philippines, please share them here by leaving a comment below. Thanks!
~~~
To our success and financial freedom!
Jay Castillo
Real Estate Investor
PRC Real Estate Broker Registration No. 3194
Blog: http://www.foreclosurephilippines.com
Follow me in Twitter: http://twitter.com/jay_castillo
Find us in Facebook: Foreclosure Investing Philippines Facebook Page
Text by Jay Castillo and Cherry Castillo. Copyright © 2008-2011 All rights reserved.
Full disclosure: Nothing to disclose.