This page contains the most updated listings of foreclosed properties included in RCBC Savings Bank's Dream Buys properties for sale.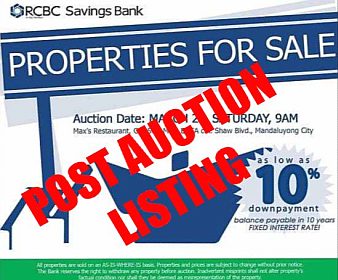 The next Dream Buys public auction shall be on February 22, 2014.
In addition to the most updated listings, you will also find the following information on this page:
Bidding terms
Payment terms and interest rates
Auction process overview
Frequently asked questions
How to get details
Disclosure and disclaimer
We will update this regularly and more information will be added as they become available.
RCBC Savings Bank foreclosed properties
Bidding terms
Show money (this is refundable in case you don't win on your bid)
Php25,000.00 in the form of cash or manager's checks
Payment terms
Cash
or
Installment:
Minimum Downpayment for vacant lots is 10%
Minimum Downpayment for properties with improvements is 20%
Balance is payable up to 10 years at 12% fixed annual interest rate
Note: 25% downpayment is required to occupy a property
Post auction terms
Same as bidding terms but instead of attending the auction, interested bidders only need to submit need to submit a duly accomplished purchase proposal form, and customer information sheet. If you plan to pay through installment, please refer to the requirements for a real estate loan.
Frequently Asked Questions and answers
Question: What happens to properties that remain unsold after the auction?
Answer: Properties unsold during the auction will be available through negotiated sale where buyers only need to submit a duly accomplished Purchase Proposal Form. We will also update the listing above after the auction to remove sold properties.
Auction process overview
The following is a summarized overview of the auction process  (Please take note that bidders should do all the necessary due diligence prior to attending the auction):
Come to the auction venue early and register by filling-out the registration form to be given during the auction and the Customer Information Sheet. I suggest you fill-out the Customer Information Sheet in advance to save time at the day of the auction. Submit these at the registration table.
Proceed to the cashier for the payment of the show money (Php 25,000 in the form of cash or manager's check). I highly suggest to bring a manager's check instead of cash for safety reasons. Get your paddle and claim stub (to claim your show money in case you do not win your bid).
Proceed to the auction proper and make sure you know the number of the property you are going to bid for. Establish your maximum price in advance. When your property is up, raise your paddle completely when the auctioneer asks for bidders for that property. Don't forget to put down your paddle just in case the current bid price being announced by the auctioneer has already exceeded your maximum price.
If you win on your bid, proceed to the designated area for winning bidders and present your registration form for validation and get your reservation form from an authorized bank officer.
Claim the award certificate that will be issued to you.
Proceed to the designated bank officer for interview and payment options. You will get a computation for the payment option that you want to avail. You will also receive instructions needed like any additional requirements you need to submit and when you need to bring these to the bank's office for contract signing, etc.
Related forms for buyers
How to inquire and get more details
Please enter your inquiries in the inquiry form below. By inquiring through us, you agree to recognize and acknowledge us as your real estate brokers/referrors, and we will assist you throughout the process of purchasing a property. We offer these services at absolutely no cost to buyers.
Please enter your inquiries about RCBC Savings Bank foreclosed properties through the form below. Kindly enter the PROPERTY ADDRESS and INDICATIVE PRICE in your message.
-
You may also contact us from 9:00am to 5:00pm, Mondays to Fridays through the following:
Cherry Castillo: 0917-8568573 / 966-2541
Disclosure and disclaimer
All properties are sold on AS-IS-WHERE-IS basis. Properties and prices are subject to change without prior notice. The Bank reserves the right to withdraw any property anytime. Inadvertent misprints shall not alter the property's factual condition nor shall they be deemed as misrepresentation of the property.
Happy hunting!
~~~
To our success and financial freedom!
Jay Castillo
Real Estate Investor
PRC Real Estate Broker License No. 3194 
Connect with us – Subscribe | Facebook | Twitter | Google+
Text by Jay Castillo and Cherry Castillo. Copyright © 2008 – 2012 All rights reserved.
Full disclosure: I am an accredited real estate broker of  RCBC Savings Bank.
PS - Don't forget to subscribe to e-mail alerts to get notified of the next auction schedule and updated listings of RCBC Savings Bank foreclosed properties.