A total of 441 foreclosed properties from Philippine National Bank (PNB) are for sale this February 2017, via several public auctions. Details below.
The first three public auctions/public sealed biddings shall be held in provincial areas.
Only the fourth public auction will be held in Metro Manila.
The complete list of public auction/sealed bidding schedules, and listings included per auction, can be downloaded/viewed below.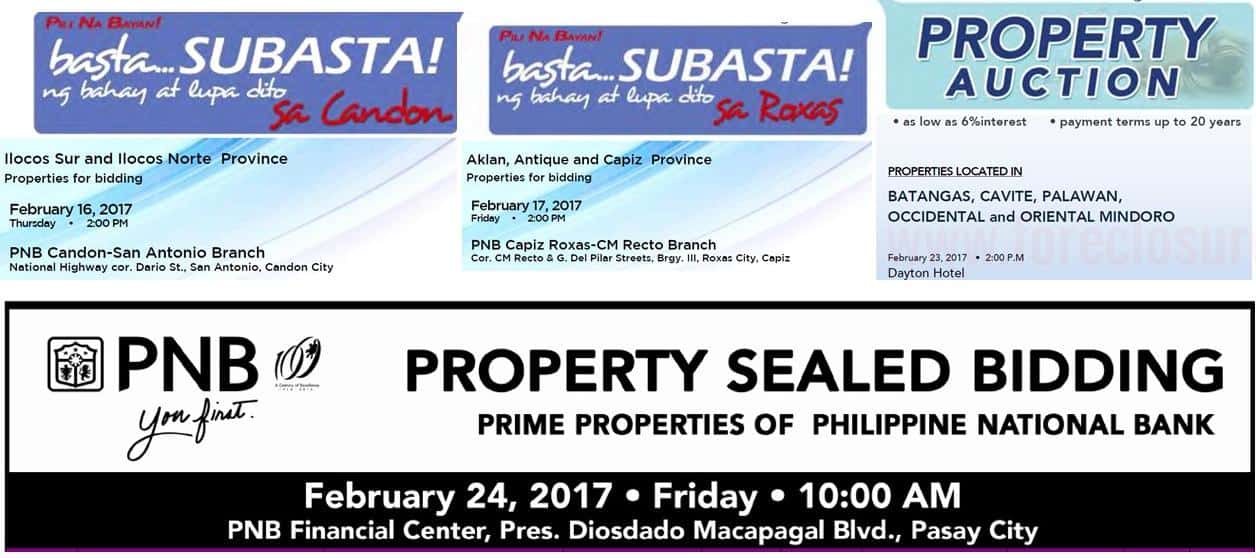 List of PNB auction schedules and listings of foreclosed properties
Auction Date
Auction Venue / Listing
Locations of foreclosed properties
# of properties
Total
441
February 16, 2017
PNB Candon-San Antonio Branch
National Highway corner Dario St., San Antonio, Cando City
• Acceptance of bids: 2:00pm


Locations:
Ilocos Sur and Ilocos Norte
15
February 17, 2017
PNB Capiz Roxas-CM Recto Branch
Cor. CM Recto & G. Del Pilar Streets, Brgy. III, Roxas City, Capiz
• Acceptance of bids: 2:00pm


Locations:
Aklan, Antique, and Capiz
58
February 23, 2017
Dayton Hotel
69 P. Burgos St. cor. Apacible Street, Batangas City
• Time: 2:00pm


Locations:
Batangas, Cavite, Palawan, Occidental Mindoro, and Oriental Mindoro
288
February 24, 2017
PNB Financial Center
President Diosdado Macapagal Blvd., Pasay City
• Time: 10:00am


Locations:
Greater Manila Area, Northern Luzon, Southern Luzon, Visayas

Also includes a few properties in Metro Manila from PNB Savings Bank, and furnitures, fixtures, and equipments.
80
Note: You will need Adobe Acrobat Reader to view PDF files, which is free to download at Adobe.com
View the listings
You may also view each of the listings below on your browser (no need to download).
February 16, 2017
February 17, 2017
February 23, 2017
February 24, 2017
Source: Noel B. Macadamia – PNB SAMG Marketing Dept. Head
Note: To get more details about the public auctions/sealed biddings and any of the properties included, please contact PNB directly through the phone numbers inside the listings above.
Reminders
The Bank reserves the right at anytime to pull out or update status of the properties in the event discrepancies are found.
Inadvertent misprints shall not alter the property's factual condition nor shall they be deemed as a misrepresentation of the property
PRICE & STATUS OF THE PROPERTIES ARE SUBJECT TO CHANGE WITHOUT PRIOR NOTICE
PROPERTIES FOR SALE ARE ON AN "AS IS WHERE IS BASIS". Prior to the bidding, bidders are advised to exercise due diligence on the physical and legal conditions of the property.
Brokers/Referrers of bidders need to be present during the bidding to be eligible for commission
~~~
Text by Jay Castillo and Cherry Castillo. Copyright © 2017 All rights reserved.
Full disclosure and reminder: Nothing to disclose, we are not brokering these properties from PNB at this time. Please contact PNB directly for any inquiries. Thank you for understanding!

P.S. Do you work for a bank and you want us to include your listing of foreclosed properties and/or repossessed cars? Click here to submit your listings!