It's one thing to get interested with real estate investing, but it's totally another thing to actually go out there and do it, and escape the "rat race". I'm sure a lot of you are asking if this is really possible, so let me tell you how I started with real estate investing and quit my job later on.
How it all started for me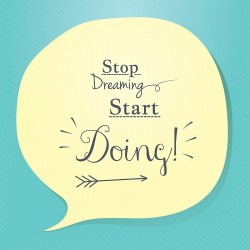 I remember when my son CJ was born last January 2005, it was the happiest day of my life. But it also made me think long and hard about my family's future. It's great to be a Dad, but it obviously comes with greater responsibilities.
Soon after, I decided to accept a long-standing offer from another company for twice my current salary back then, only to realize I was living a such a dangerous life where I had to drive from Makati to Batangas and back almost every other day (that's 200 kilometers one-way… or 400 kilometers per day!), and then I had to drive home from Makati to Marikina everyday. This wasn't the I.T. Manager job I signed up for.
So just after just 7 months , I decided to give my 30-day notice to return to my previous job. I took a pay-cut, but at least I get to work in a place that was just 6 kilometers away from home, that's a 10-minute drive with no traffic.
Even if it sounded like a waste of time, I was still very thankful for the short time I was with another company because that's where I found the book that started my real estate investing journey…
The book that started it all: Rich Dad Poor Dad
That's where my staff (now a good friend of mine…. he even got me as one of his Ninongs in his wedding) introduced me to Robert Kiyosaki's book Rich Dad Poor Dad. This was around April 2005, and this started my real estate investing journey…
Chronology of events
Let me summarize my journey below:
2006
In December 2006 I stumbled upon Larry Gamboa's book Think Rich Pinoy, which strengthened my belief that real estate investing and the Rich Dad principles can be applied in the Philippine setting. After reading the book, I wanted to learn more, so I began to seek more information, mentors, and other people who were also interested in real estate investing.
Later that year, I was diagnosed with vertigo and hypertension. I realized that the stress at work was just too much, but it was a blessing in disguise as it was an "aha!" moment for me and strengthened my resolve to get started with real estate investing.
2007
In 2007 I attended the How To Become Truly Rich seminar by Bo Sanchez. This led to attending Larry Gamboa's Think Rich Pinoy Wealth Seminar a month after. Afterwards, I joined a Google group for TRP attendees and this was how I found Dinna Revilla, Larry's mentor, which he mentioned in his book. I started attending meetings at the Charter House in Makati where Dinna Revilla would share real estate investing tips for newbies like me.
However, I still wanted more, so I also attended Engineer Enrico Cruz's Investing In Real Estate Seminar Series and his Comprehensive Real Estate Seminar and Review (CRESR). It was great to learn from Engineer Cruz, most especially with his no-nonsense approach and wisdom gained from many years in the real estate industry. I then took and passed the 2007 Real Estate Broker Licensure exam.I was so excited, but the excitement ended abruptly.
2007 ended in a negative note because news about the Dinna Revilla bouncing check scandal broke out, and for the first time in my life, I doubted real estate investing because of a guru who (allegedly) duped a lot of her investors.
2008
In 2008, I turned to paper assets, particularly mutual funds, and started putting all my excess money there. Although it was nice to finally have paper assets, I felt the lack of control. I could not do anything to make my paper assets appreciate in value. I also realized it would take a long time for me to have enough replacement income to quit a job where I was overworked and underpaid. So I decided to try real estate investing one more time… My passion for real estate investing got re-ignited!
Thanks to a friend, I met Dr. Jon Abaquin a.k.a "Doctor Rent" (He's also in the book Think Rich Pinoy). Dr. Jon's mentoring and challenge helped me make an offer for a foreclosed property, which was later approved by the bank. The property was occupied and my offer was contingent upon the bank's possession of the property, so all I had to do was wait…
Later that year, I won my first bid at a public auction of foreclosed properties held during the 1st Philippine Real Estate Festival at the World Trade Center in Pasay City. Although the deal didn't push through (the mother title had a problem), I learned so much from it.
I also became a member of Think Rich Pinoy (TRP) Club Marikina, handled by Thea Santos (a very successful real estate investor), who also invited me to attend Jomar Hilario's Internet Marketing Workshop as a facilitator. I owe a lot to Jomar because the lessons I learned from his workshop helped me start www.foreclosedrealestate.blogspot.com which I later moved to www.foreclosurephilippines.com.
2009
At the start of 2009, I made a bold declaration. I declared that "I will get out of the rat race on or before my 40th birthday in December, and I will do this with my combined earnings from real estate investing and internet marketing".
My big goal was to buy at least 4 foreclosed properties that year.
A goal setting session with the TRP Club Marikina helped me realize this goal. I remember I wrote down my goal of buying a foreclosed property within the next 30 days, which I was able to accomplish. I attended an auction and won my bid for a foreclosed property, renovated the property, and got the property tenanted in 55 days.
After that deal I was able to buy two more properties.
In spite of being one property short of my target (because of Ondoy), I was still able to acquire 3 foreclosed properties that year alone. Not bad!
2010
I finally quit my job as an IT manager last January 31, 2010. I am a full-time real estate investor/broker and internet marketing practitioner to this very day, and I am very happy with what I do.
Yes! It really is possible!
(Whew… that was a long summary!)
Lessons learned
For sure, a lot of you would want to "pick my brain" and learn from my 5-year journey which I summarized above (actually the journey continues so there's much more to learn).
(Sorry guys, this post has become too long as it is, so I'll continue this on my next post)
To be continued…