Update as of November 25, 2013 – Property is currently occupied by relatives of the former owner, although the property is still for sale on an "as-is where-is" basis.
This featured property is a spacious townhouse located at the heart of BF Resort Village, Las Pinas City. Property specifications and photo can be seen below. Based on initial estimates, this property is being sold at below market value, although we have yet to inspect it to assess the repairs needed. Please see below details at hand.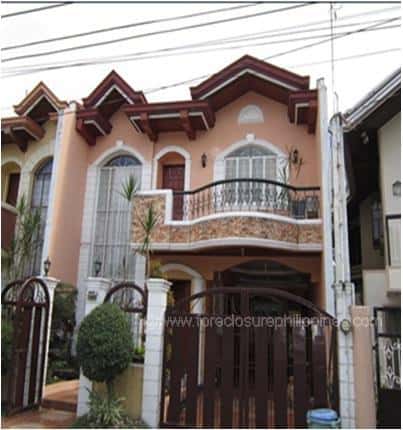 Property Details
Lot Area: 170 sqm
Floor Area: 210 sqm
Selling Price: PHP 3,567,000.00
Location: Vista Grande, BF Resort Village, Las Pinas City
Bedrooms: To follow
Parking: 2 car garage
Features and benefits
Flood free – have peace of mind!
Inside a gated village – be safe and secure!
Near village gate – very accessible!
Payment terms:
Cash
Installment:

Minimum Downpayment: 20% of selling price or Php 713,400.00
Balance is payable up to 10 years at 12% fixed annual interest rate
Monthly amortization for 10 years @ 12% annual interest rate: Php40,940.87

Can this be purchased through a Pag-IBIG loan?

Yes, but you will have to agree and start paying with the installment terms above while your Pag-IBIG loan is being processed.
The "fine print" – Please read!
PRICES SUBJECT TO CHANGE WITHOUT PRIOR NOTICE
Misprints should not be construed as misrepresentation of the property.
The bank reserves the right to withdraw any property for whatever reason.
All transactions are subject to bank approval.
For more details, please contact us directly:
Cherry Castillo: 966-2541 / 0917-8568573
Jay Castillo: 964-9489 / 0917-8843882
Or leave a comment below with your best email address and phone number (will not be published).
This will get sold quickly so you better act fast!!!
We believe this property will get sold fast based on experience (smaller but more expensive townhouses in a location not as good as this one got sold quickly before).
If you are seriously interested, you better act fast and contact us so we can provide more info and schedule viewing/tripping asap and assist you with the purchase.
We'll update this post with more details once we have inspected the property and more information becomes available.
Update as of November 12, 2013 – Added pictures, see above. We were not able to get photos from the inside as the bank's caretaker(s) were not there when we visited the property. Townhouse has 2-car garage and is in a flood free area.
Update as of November 25, 2013 – Property is currently occupied by relatives of the former owner.