Here is the most updated list of foreclosed properties from Country Builders Bank or CBB, which is updated as of June 8, 2017. Details below.
Color coding for properties
What I like about this list is they have the properties color coded so you will have a very good idea with regard to the status of each property.
This helps everyone save time because you don't have to contact the bank just to get details if a property has "special concerns", you can already see it on the list. I hope all banks will follow the same system.
Anyway, please refer to the color coding legend below:
COLOR CODING:
GREEN: Title/s, Tax Declaration Certificate/s are in the name of the bank. The possession of the properties are with the bank as well.
YELLOW:
Yellow-1: Document issues   |   Yellow-2: Possession issue / Encroachments Yellow-3: Landlocked property | Yellow-4: Unlocated property
Yellow-5: Consolidation on process  |  Yellow-6: Other issues  |  Yellow-7: Under redemption period
RED:
Red-1: Litigated accounts
Red-2: Ejectment cases and Petitions for Writ of Possession
NOTE: Entries indicated as "TBD" is defined as "To be determined". Prices indicated as "Best Offer" encourages offers to come from buyers.
Anyway, here's the updated listing from Country Builders Bank…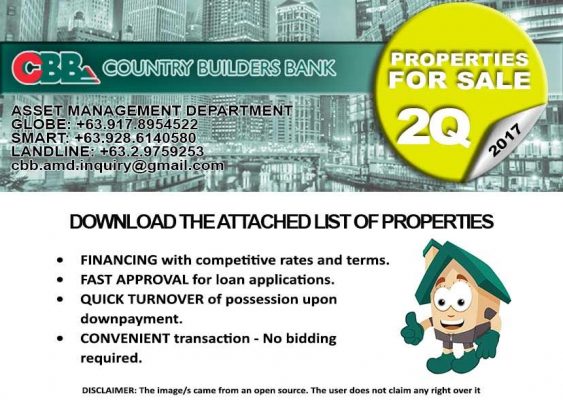 View or download list of CBB foreclosed properties
You may view or download the complete list of foreclosed properties from Country Builders Bank below.
To download a copy, click on the link below:
Source: CBB AMD*
How to inquire
To inquire about any property on the list, please contact CBB Asset Management Department directly through their contact details below:
Visit the ASSET MANAGEMENT DEPARTMENT | Country Builders Bank, Inc.
CBB AMD Pasig: San Joaquin Office 207 M. Concepcion St., San Joaquin, Pasig City, Philippines 1601
CBB AMD Marikina: 354 J.P. Rizal corner V. Santos Sts., Brgy. Sto. Nino, Marikina City, Philippines 1800
Telephone:
T: +63.2.975.9253 / +63.2.571.2614
M: +63.917.8954522 / +63.928.6140580
Email/website
cbb.amd@gmail.com | www.cbb.com.ph | www.cbb.com.ph/acquired-assets.shtml
Full disclosure
Nothing to disclose: We are not accredited brokers of CBB. We are sharing this as a form of public service for our readers and subscribers.
Reminder: Please contact CBB directly to inquire. Thank you for understanding!
*- Thanks again to CBB's Asset Management Department for sending their updated listings!